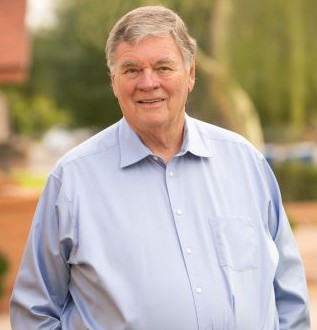 The Loughrige family has been in Tempe since 1933. Bill retired as a Senior Special Agent for the United States Customs Service following a distinguished 35 year law enforcement career serving our country. Shortly thereafter, he established WJL Investigations, a small private investigations company, which he continues to lead along with offering process server and security guard services.
Active in the community, Bill serves as the current president of both Tempe Sunrise Kiwanis as well as Walker Fire Protection Association, a volunteer, non-profit fire department located in Yavapai County near Prescott, AZ.
Bill grew up as part of a large active family that was grounded in traditional American cultural values. His mother was president of Arizona's Church Women United.
Bill has been a wage earner all of his life, setting the example for his own family members that they work for what they need and want. Although he lost his sweetheart Millie in 2017 to illness after 56 years of marriage, Bill's home is still family-central for his adult children, grandchildren and even a great-grandchild.
He believes a strong family unit is important for establishing and guiding generations from infancy through the various stages of adulthood. Besides his own family members, the Loughrige house has always welcomed those whose loved ones are out-of-state/country or consider themselves "Arizona orphans" for one reason or another.
Husband. Father. Grandfather. Dog dad. Neighbor. Friend. Small business owner. Retired law enforcement. Community volunteer.
Bill Loughrige. The trusted voice for all generations.
Click here to download Bill's resume.